In 2005, Taft and I selected and wrote about all the players on the team. This year, we tried something different. First, we had readers help nominate players for the team. In addition, we brought in some friends of the site and members of the blogosphere to explain each player's handsomeness.
Click here to see last year's team. Click here to look at the original team and the original selection process.
So, without further ado, here is 2006's version of the Handsome Man Team:
Starters:
C: Joe Mauer (Minnesota Twins)
1B: Derrek Lee (Chicago Cubs)
2B: Jose Valentin (New York Mets)
3B: David Wright (NY Mets)
SS: Derek Jeter (New York Yankees)
OF: David DeJesus (Kansas City Royals)
OF: Jeff Francoeur (Atlanta Braves)
OF: Grady Sizemore (Cleveland Indians)
DH: Alex Rodriguez (New York Yankees)
Bench:
OF: Matt Murton (Chicago Cubs)
OF: Handsome Corey Patterson (Baltimore Orioles)
2B: Todd Walker (Chicago Cubs)
C: Michael Barrett (Chicago Cubs)
3B: Eric Chavez (Oakland Athletics)
C: Javy Lopez (Baltimore Orioles)
OF: Gabe Kapler (Boston Red Sox)
Pitching staff:
P: Kyle "Hot Pants" Farnsworth (New York Yankees)
P: Javier Vazquez and Neal Cotts (Chicago White Sox)
P: Scott Kazmir (Tampa Bay Devil Rays)
P: Jon Garland (Chicago White Sox)
P: Huston Street (Oakland Athletics)
P: Barry Zito (Oakland Athletics)
Handsome GM:Theo Epstein (Boston Red Sox)
Catcher: Joe Mauer, Minnesota Twins


Ross Gianfortune says:
There is something brewing up in the Twin cities and it isn't just the best pitcher in baseball. Minnesota native Joe Mauer is not only leading the majors in hitting at .378, he's also among the league leaders in "handsomeness."
Of course, his youth is probably the biggest factor in his handsomeness, as he is a mere 23 years old. His youth belies his baby face, while his sideburns scream a little bit of "I just learned how to grow facial hair." While he's a catcher, he is still lean and a little skinny, as teammate Torii Hunter explains:
What Joe Mauer's doing is sick. He's 23 years old. What's he going to do when he gets man muscles?
But, if you think a straight male White Sox fan isn't being complimentary enough about him, check out what the commenters on blogdome's favorite Twins site , Bat Girl (sorry, Aaron), said after the site's proprietor posted the now infamous fashion photo spread starring Chairman Mauer:

"I'm male. And straight. And married. And even I… dammit, now I see what you girls are talking about."
"*passes out* Like I can go to class

NOW

and concentrate?"
"I just had five bug-eyed middle-aged co-workers panting over my shoulder."
"Hmm. I seem to have a bit of drool in my keyboard now. The Chairman cleans up quite nicely."
"When I see him at games, I can't help but wonder how hot he'd be if all he wore were his pads and chest protector, nothing else."
That'll do.
First base: Derrek Lee, Chicago Cubs


Annette R. from Chicago, IL says:
Derrek Lee has those nice, fucking long legs. I believe he's got a really fine ass, but he doesn't wear tight enough pants. And he looks like a lion; I actually think he looks much hotter with his batting helmet on. Certainly having him on first makes this season that much more bearable.
Second base: Jose Valentin, New York Mets

Alex Taft says:
The conversation about the greatest baseball player ever usually starts and ends with Babe Ruth for one reason: pitching. Before Ruth was the greatest hitter in history, he was one of the best left-handed pitchers in the American League. The Babe played in a very different era than today's game; the Babe probably would not stack up to most of today's players. The Babe was fat, slow and out of shape, never faced a black pitcher, a slider, a split-fingered fastball, or (in all probability) a 100 mph fastball. But the Babe was the one who catapulted baseball into the national spotlight and made the game America's pastime.
Such is our annual discussion on who should captain the Handsome Man Team. There are obviously men more handsome than our captain, Jose Valentin, but Valentin will remain the captain of the Handsome Man Team until he retires because he was the one that started it all one balmy summer afternoon in the Taft household. Sporting a meticulously groomed mustache that would make Tom Selleck proud, my dad commented on Valentin's good looks, which caused the snowball to start rolling that would eventually become the avalanche known as the Handsome Man Team.
Years later, Valentin is in a new league, playing a new role (super-utility man for the New York Mets) with a mustache that wasn't as full or dark as it once was. Yet as the sun starts to set on Valentin's career, we reflect back and remember the good times, the mustache. Valentin might not be the handsomest of men by today's standards, but he is the most important handsome man.
Third base: David Wright, New York Mets


Helene N.Y. says:
The Yankees wear sophisticated pinstripes, play at historic Yankee Stadium, and boast players like Mickey Mantle, Joe DiMaggio, Derek Jeter, and A-Rod. The Mets play in Flushing, Queens, have the ugliest color combo in MLB, and the best heartthrob we could come up with was Mike Piazza. After suffering the embarrassment of shelling out the GNP of a small country to secure Mo Vaughn, it became obvious that the Mets were never going to be a team with style, youth, looks, or even dignity.
But with the addition of one player in 2004, that has changed. The Mets are a team to watch. And not because Minaya and Randolph have put together a kickass team that is leading the division, but because their golden boy, David Wright, has a face that could turn even the straightest man gay. Sure, he can play, is great at the field, and consistent at the plate, but he also happens to be six feet tall and I am convinced that he is only ever told to steal a base so that the cameras can get a close up of his eyes darting back and forth. The combination of these qualities is what made David Wright my first round draft pick and the star of my fantasy. Team. My fantasy team.
Shortstop: Derek Jeter, New York Yankee


Ross:
Derek Jeter has it all.
He's rich. He's relatively young. He's a future Hall-of-Famer. He plays on the most storied franchise on the most glamorous team in the most glamorous city in baseball. He's the son of a doctor.
He is the perfect storm of baseball hunk. There are thousands of Derek Jeter fan sites, written by Yankee fans from coast to coast. He's been on the cover of Esquire. He's big-city, East Coast glamour combined with the humble upbringing that can only come from his roots in Kalamazoo Michigan.
How many other major leaguers have had a story like this written about him? Not many. As much speculation rides on his love life as his swing.
There seems to be two camps of people when thinking about the left side of the Yankee infield. While Alex Rodriguez is clearly the better player, Derek Jeter's much more handsome.
Oh, Rodriguez is a great-looking guy. But, unlike his game, his looks are flawed. I'll let Reb Sox blogger Rebecca take it:
Have you noticed that A-Rod has purple lips? In addition to the unnatural coloring, they tend to curl up and whimper if so much as a called strike doesn't go his way. [It is a] huge turnoff. I'd say he also has somewhat of a bubble-shaped butt, but I think that may be just the uniform (also, in my opinion, a huge turnoff).
Derek Jeter doesn't have that problem. Just ask Kim Basinger:
"He's a hunk, and I don't even like that word. Women like guys who have a big presence but sort of play it down. It's very appealing."
Outfielder:David DeJesus, Kansas City Royals


Kara, a visual artist from Laramie, Wyoming says:


Well said, Kara.
Outfielder: Jeff Francoeur, Atlanta Braves


Mark S., of St. Louis says:
From time to time, I check in on my old roommates Taft and Ross through their Chicago baseball site. Sure, I've never really recognized baseball north of the Mason-Dixon Line (as we all know, the sport was invented in 1839 by Abner "L'il Dixie" Doubleday in a peach field in Atlanta, Georgia), and part of me doesn't really believe the Chicago Cubs or White "Sox" really exist.
A few months back, the site posted a request for nominations for the 2006 Handsome Man Team, an annual team in which the most talented and especially handsome men in the Major Leagues are rewarded for play in the field and grooming in the locker room. While my part in this tradition's creation is really only slight, I've always enjoyed being associated with the team and include it on all resumes. When they asked for nominations, I found myself nominating Atlanta Braves right fielder Jeff Francoeur without hesitation, and I've been looking hard and deep within myself to figure out why.
During the 2005 season, a group of young men soon-to-be christened the "Baby Braves" emerged from the minor leagues, helping a team of battered veterans, as well as handsome slugger Andruw Jones, to an unprecedented 14th straight division title. Come July, it was clear that one of these Baby Braves was no baby, but a man, and a handsome man at that. Jeff Francoeur is considered to represent the future of the Atlanta Braves organization, but in Jeff Francoeur , I see the future of the Handsome Man Team and handsome men all throughout the Major Leagues. Just as he brings unbridled enthusiasm to the jaded ranks in Atlanta, he brings youthful exuberance to being handsome, sometimes proudly displaying a few days' scruff, as he has probably only been able to grow it for a few months. In A ball, Francoeur was once hit with a pitch in the face and now has metal keeping his jaw together. Nonetheless, he aggressively steps into that hitter's box everyday with a fearless swagger that his reconstructed jaw is just as attractive as anyone else's. And it is. And then some. With Handsome Man Team veterans like Javy Lopez, for example, in the twilight of their good-looking careers, it's refreshing to know that the future is bright with handsome young men, and in that future, I see young stud Jeff Francoeur playing right field not only for the 2006 Handsome Man Team, but for many handsome seasons to come.
Outfielder: Grady Sizemore, Cleveland Indians


Micah Kushner of OutSports.com says:
There is no hotter player in baseball then Grady Sizemore. Oh yea, and he's a pretty good centerfielder, too. Sizemore is a young stud. The Indians inked him to a multiyear contract before the season began. He is the total package. Nice body, fast, and he makes spectacular plays in the outfield. I love when he leads off a game and gets on base. There is nothing I enjoy more then watching him run around the bases in his skin tight baseball pants. Sizemore is headed for the All-star game, too. What a treat! He is quite the eye-candy, but this candy won't go stale. Sizemore will be roaming Jacobs Field for a long time.
Designated hitter: Alex Rodriguez, New York Yankees


Taft:
Lots of baseball fans don't seem to like Alex Rodriguez, and I've never really understood why.
Okay, so he makes $25 million a year. So what? Michael Jordan made $30 million a year, and nobody griped about that. And don't say you can't compare A-Rod and MJ. When MJ was playing, he was undeniably the greatest player in the game. The same goes for A-Rod today. Legendary offense, solid, if not ocassionally stellar defense. Some idiots out there say he's not clutch. Well, I happen to think a career .952 OPS with runners in scoring position is pretty good. Other theories have proposed that people don't like A-Rod because his public persona is too bland. I don't buy it though; Derek Jeter is as bland as a bread sandwich, and people in Yankee nation seem to think that he is the love child of Jesus Christ and Honus Wagner.
But this is not about A-Rod and his undeniable hitting prowess or his lack of public spiciness. This is about A-Rod and his undeniable handsomeness. Maybe this is why people like don't like him; on top of all of the money and fame, A-Rod is in fantastic shape and is handsome to boot. I mean, look at this guy!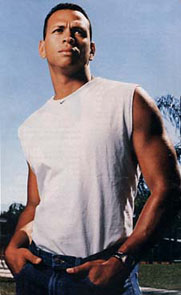 Maybe if he was one of the great ones and wasn't as handsome, like Barry Bonds, or was one of the great handsome ones and had an obvious hole in his game, like Derek Jeter, people would like him more. Don't tell me A-Rod isn't great or clutch, and don't tell me he isn't handsome. You'd be wrong on all counts.
Bench:
Outfielder: Handsome Corey Patterson, Baltimore Orioles


Taft:
"Handsome" Corey Patterson was a much-embattled figure here on SvS during his time with the Cubs, struggling with both his plate discipline and his role on the team mightily.
However, there was one part of Patterson's game that was never in dispute: his striking good looks.
I don't believe I have told this story in this space before, but my favorite story involving Patterson's handsomeness came at a 2004 Cubs game against the Pirates. I was lucky enough to be sitting in a skybox with a family friend, to this day, the only Wrigley Field skybox experience I've had. For those of you who have never sat in the skybox, they basically treat you like you're sitting in first class on an airplane. Except with more hot dogs. Anyway, towards the end of the game, a woman with an espresso/dessert cart came around with, um, espresso drinks and desserts. As these things are two great weaknesses of mine (especially when they're free), I couldn't resist, ordered a latte and chatted with the nice lady who was making my beverage. I asked her who her favorite player was and she said Corey Patterson. I started talking about Patterson and probably fed the lady some line about how they needed to keep him out of the leadoff spot, assuming that as an employee of the Cubs, she probably kept at least a passing interest in the team so that chatting with jerks like me would result in larger tips. I was wrong.
"I don't know anything about that," said the woman. "I just know he's fine."
Outfielder: Matt Murton, Chicago Cubs

Taft:
From a miscast leadoff hitter of the past to a miscast power hitter of the future, the Cubs have passed the young handsome man torch from young Corey Patterson to young Matt Murton. Murton's youth, ability to actually take a pitch, strong work ethic, and mop of thick red hair have already made him a fan favorite at Wrigley; when Murton runs out to left field, it is not uncommon to hear wild shrieks from crushing women and/or "Marry Me Murton" (or something far less family-friendly, as I have seen on numerous occasions) signs popping out of the left field bleachers. As the Baseball Prospectus book put it this year, there really aren't too many natural redheads left in the game of baseball these days; you've gotta love the ones that are left.
Hopefully "naranja" ("orange," or "the orange one", a nickname given to Murton by his Latin teammates during last season) will be around for a while, wowing people with both his developing baseball skills and his handsomeness.
Second base: Todd Walker, Chicago Cubs

Annette R.:
We call him "Hot Toddy". I wouldn't mind getting the face burn from his scruff.
Catcher: Michael Barrett, Chicago Cubs

Annette R.:
I've got a big thing for Michael Barrett. (Big grin) I think I have a thing for catchers in particular, but the stance when he throws to second [to throw out a potential basestealer] really turns me on.
Third baseman: Eric Chavez, Oakland Athletics


Ross:
For all the talk of Eric Chavez' Gold Gloves, hitting accomplishments and natural ability ("You could make a case that Chavvy is the most naturally gifted player in the game," says baseball's smartest man and Oakland GM, Billy Beane), Chavez is among the most handsome men in the game.
A member if the inaugural Handsome Man Team, Chavez is stuck on the bench at a position where handsomeness seems to be a requirement (if Chavez pitched, he'd be the ace).
Where to start with Chavez? What makes him so handsome? Is it his devil-may-care swagger, equal parts frat-house and SoCal surfer guy? Is it that baby fat draped over his chiseled cheekbones? Is it his smile?
I say his hair takes him over the top. Some of the most handsome men in baseball look terrible sans chapeau, but Chavez' bouffant makes him handsome beyond compare.
Catcher: Javier Lopez, Baltimore Orioles

Ross:
Let's be honest: Baseball players aren't the most handsome of athletes. While the top tier (the guys on this team, for example) is worthy, baseball is a comparatively inanaerobic sport. Other than football and golf, few atheletes have such oddly shaped bodies (for my money, soccer players are the most handsome).
Catcher is a great example of this. A positon that takes a toll on the knees, it helps to be low to the ground. For years, the ugliest players on the field were catchers. Ernie Lombardi. Sal Fasano. Jorge Posada. Ron Karkovice.Mike Piazza.
Well, Javy Lopez is the anti-ugly catcher. Unlike youngsters Joe Mauer and Michael Barrett, Lopez has been one of the mainstays of the handsome man team since its inception. While he's not chiseled like Gabe Kapler, nor does he still have the baby fat of a Jeff Francoeur, Lopez has the looks to anchor a young team. His smile is captivating and he looks as good without his gear as he does with it.
Obviously, famous athletes are married to attractive women. Hell, crappy, ugly players (Jose Lima, anyone?) marry great-looking women.
Javy Lopez found the eyes of the Handsome Man when he and his wife posed for SI.com's swimsuit issue in 2002: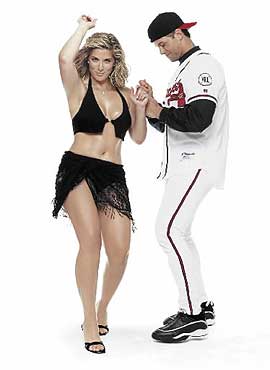 Outfield: Gabe Kapler, Boston Red Sox

Rebecca from Reb Sox, says:
That chiseled specimen of human athlete you may have seen roaming the outfield or warming the bench for the Boston Red Sox is known as Gabe the Babe. The man treats his body like a temple, fanatical about working out healthy eating, and it shows. If you can tear your eyes away from his ripped physique you might also notice Gabe's sparkling blue eyes and warm smile. (AND he's humble; I met him personally this past September, and when I asked him to take a picture with me, HE thanked ME!) He may not take the field every day for the Red Sox, but you'd never know it when you hear Gabe Kaplar cheered – especially by the women.
Pitchers:
Pitcher: Kyle "Hot Pants" Farnsworth, New York Yankees


Annette R.:
Definitely the finest ass in baseball. I have it on good authority that when he was with the Cubs he had the lowest percentage body fat on the team. All muscle… Ass Muscle. And I definitely cried the day I found out we traded him.
Pitchers: Javier Vazquez and Neal Cotts, Chicago White Sox



Ross:
There aren't a lot of guys who can pull off the scruffy facial hair. I'm not talking about ridiculous facial hair – Only Mike Piazza really even attempts that. I'm more talking about the five o'clock shadow/teenage beard thing that has grown popular in recent years.
Two vastly different White Sox pitchers seem to be able to do this, giving the Sox a very handsome pitching staff. Neal Cotts and Javy Vazquez are two of the three White Sox representatives on the team and as a fan, I couldn't be happier.
Historically, the Sox have been an ugly group of men. In my lifetime, Sox stars have been trashy losers like Jack McDowell, little weenies like Lance Johnson and Ozzie Guillen or big fat guys like Frank Thomas and Alex Fernandez.
Both are quiet guys on a solid team in a park that absolutely punished pitchers. Javy Vazquez is a control pitcher that my mother saw and was taken aback. "Wow, he's good-looking," she said as he got pounded once again (He's a little too familiar with the strike zone).
Neal Cotts, however, is a doe-eyed lefty reliever with control problems and flowing hair. The classic Midwestern look, his light brown locks fallout of his hat as he wings to the plate. Like Derek Jeter, his young face befits a boy band member more than it does a lefty reliever on a World Series-winning ballclub.
Pitcher: Scott Kazmir, Tampa Bay Devil Rays


Micah Kushner of OutSports.com says:
If you enjoy the young boyish look be sure to catch a Devil Rays game this season when Kazmir takes the hill. Not just is Kazmir one of the better looking kids in the league, he is making a strong case for CY Young. Kazmir will be making his first All-star appearance in Pittsburgh. Physically, Kazmir, is undersized at 6'0, but the lefty phenom makes up for it with a fastball that tops out in the mid 90's. If the Rays would allow Kazmir to pitch everyday they would be better off and so would I.
Pitcher: Jon Garland, Chicago White Sox


Ross:
Last year's World Series championship team was built on the starting pitching staff and this year's Handsome Man contingent from the Sox is the same. Despite not having any hitters worthwhile in the looks department (well, maybe Scott Podsednik, but no one else), the Sox pitching staff is stocked with good-looking men.
OC native Jon Garland has been the subject of trade rumors since his promotion to the big club and the subject of even more marriage proposals and "I love Jon" signs at U.S. Cellular Field.
While his soul patch has got to go, his laid-back SoCal style befits his laid-back sinker and his worm-willing, groundball-inducing pitches.
Pitcher: Huston Street, Oakland Athletics


Ross:
Huston Street is the most handsome man in baseball. This is not an opinion. It is a fact.
In addition to his youth, his deep brown eyes, his provocative sideburns and his blazing fastball, Street has a killer smile and a very understated off-field fashion sense. Unlike a lot of baseballers, he doesn't force the dress to wear mesh shirts, sweats or ill-fitting suits. Unlike a lot of pitchers, he doesn't
I mean, what other pitcher would ever pose for an Esquire photo feature? Not many.
Most important, Huston Street has never taken a bad picture:
Here are three great ones, but I'll also include a Google image search link for you to look through when you stop drooling.
Pitcher: Barry Zito, Oakland Athletics


Taft:
Few players put out a rock star aura like Barry Zito. The quirky Oakland A's pitcher is known for his off-the-field hobbies, which include surfing, yoga and playing the guitar. Early in his career in Oakland he once dyed his hair blue, earning him the nickname "Planet Zito."
Sure, there's the on-the-field stuff about Zito; he's a lefty Cy Young award winner, is rarely injured, has excellent control, and a huge looping curveball. But all of that stuff is ancillary to the fact that this guy is undeniably handsome at a position (pitcher) that carries very few handsome men. And that makes him all the more valuable to the Handsome Man Team.
Look at those eyes, the tousled hair, and the boyish smile. You might not want to take him home to mom, but you'd definitely want to take him home to your hippy aunt.
Zito is a free agent after this season, and he'll almost certainly command more than the $7.9 million he is making this season. So look out; there may be a Zito coming to your city this winter, ready to bring your favorite team a whole new presence on the Handsome Man Team.
General Manager: Theo Epstein, Boston Red Sox

Rebecca from Reb Sox, says:
General managers are not usually associated with the throngs of female admirers often spotted around the diamond. Indeed, it took the first GM under thirty to take the position to bachelor-of-the-year level, and four years later the ladies are still swooning over Theo Epstein. It was a sad day in Boston when Theo's engagement was recently announced, but some of us still hold out hope. He's no movie star, but he's tall, dark & handsome enough that once we see his clear blue eyes and quiet confidence he's won our hearts. Theo also brings holds an object of female attraction rarely seen in MLB: BRAINS. He's a lawyer AND he runs the Boston Red Sox… now that's sexy.